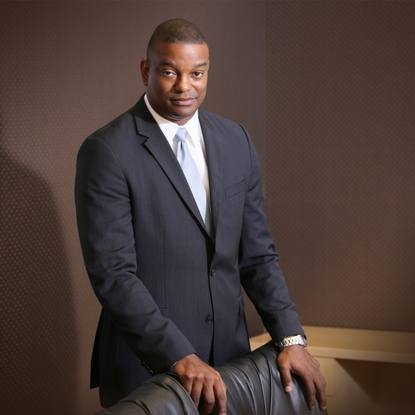 Wyndel G. Darville
Founding Attorney
Bio
20 Years of Expereince
Sarasota criminal defense attorney Wyndel G. Darville is the lead attorney at The Law Office of Wyndel G. Darville, PLLC. There is no aspect of your case that can surprise him, and no stone he will leave unturned in his pursuit of justice on your behalf.
With more than 20 years of experience serving his community as a civilian and military prosecutor, defense lawyer, and selection as senior defense counsel for the United States Army Reserve, he has learned to recognize and utilize the most important details in a criminal case.
---
Contact The Law Office of Wyndel G. Darville, PLLC for your free consultation.
---
Military Veteran
With 10 years' time spent in the United States Army and the United States Army Reserves, this veteran can also use his training and discipline to hone in on the weaknesses in the prosecution's claims and exploit them for a rapid victory.
Trust an Experienced Attorney
One of the key components of achieving success in a criminal defense case is knowing that you can trust and depend on your legal advocate. Attorney Wyndel Darville has been a proud resident of Florida State ever since he graduated from Southern University Law Center in 1996. His loyalty to Florida and its people began early when he accepted a job at the State Attorney's Office, working under the respected Mr. Earl Moreland.
During his employment, he become wholly familiar with laws and litigation surrounding felonies, misdemeanors, infractions, juvenile crimes, and even domestic violence claims. By the end of his time with the State Attorney's Office, he has tried 150+ jury trials, some of which dealt with everyday violations like DUI and others are harsh as murder.
Achievements and accolades:
150 jury trials as a former prosecutor
Experience as a JAG (Judge Advocate General's) Officer
Bronze Star for Service in Iraq
Veteran of Operation Iraqi Freedom II
Major Ranking in Senior Defense Counsel for Army Reserve
Attorney Darville's Experience and Service in the Military
Mr. Darville's experience is in no way limited to his time spent on the civilian side of the law and the world. He proudly began his service to his country during Operation Iraqi Freedom II, during which he was given the Bronze Star, a military honor that is pinned on soldiers who embody both heroism and an admirable sense of duty while operating in a dangerous territory or combat zone.
He still holds the rank of major and has not let his military duties – which include assistance for military justice and legal issues, as well as counsel for defense trials and operational law review – slide. The decade he has accrued of experience in both active duty and the reserves has instilled him with an unwavering respect of the importance of freedoms and rights under the United States Constitution. When he steps into the courtroom, everyone knows that he is truly driven to fight for and defend his clients.
Personal Education and Support for His Community
Attorney Darville received his Bachelor of Science degree in political science from Palm Beach Atlantic College in 1991. Before entering law school, he was employed as a teacher and learned the importance of uplifting others through self-empowerment and education. Prior to his aforementioned graduation from Southern University Law Center, he was active in the Student Bar Association.
With a unique background in both legalities and military service, Attorney Darville has been able to achieve many professional recognitions and memberships, including the Florida Bar, Sarasota County Bar Association, and the Florida Association of Criminal Defense Lawyers (FACDL).
---
When the people of his community need legal counsel that does not back down from any fight, they can contact him over the phone or online for a free 30-minute consultation.
---